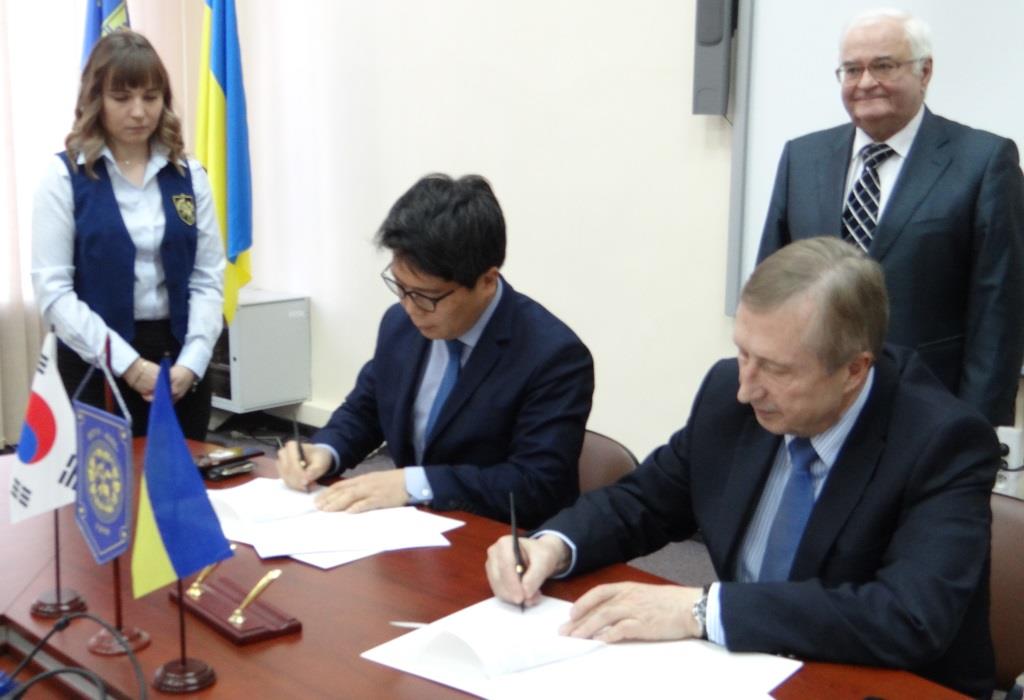 The Igor Sikorsky Kyiv Polytechnic Institute (KPI) and the consortium XnTree Ltd. UK concluded a framework cooperation agreement on February 19, 2019. In particular, Igor Sikorsky KPI Rector Mykhailo Zgurovsky and Peter Chan, XnTree Ltd. UK Tech Accelerator and Advisor to the Prime Minister of South Korea for startups, signed this document.
The signing ceremony was preceded by a discussion about possibilities for cooperation in the implementation of joint innovation projects with XnTree Ltd. UK. Chunsik Jeon, President of the Ecopartners Company, and Hyon Tae Kim, Director of the Smart Farming Center at the Korea-based Gyeongsang University also showed a keen interest in the establishment of partnership relations with the Igor Sikorsky KPI.
As far as other Igor Sikorsky KPI participants in the meeting with foreign guests are concerned, Sergii Sydorenko, Vice-Rector for International Relations, Konstiantyn Yefremov, Director of the World Data Center for Geoinformatics and Sustainable Development, Yuri Sidorenko, Deputy Vice-Rector for Science, and Yevhen Kovalenko, member of the group of designers of university's nanosatellites, took part in the discussion. The guests enjoyed the presentations on the university's innovation ecosystem Sikorsky Challenge as the model of creating a future hi-tech economy in Ukraine, as well as on some aspects of the Igor Sikorsky KPI space program.
The mission of XnTree Ltd. UK is to enhance the fourth industrial revolution through the collaboration of cutting-edge technologies by bridging the best of East and West. Consortium's dedicated programs are designed to provide a soft landing for international startups operating in sectors such as Smart City, FinTech, BioTech, AI and Cybersecurity to build and scale their technology.
Thus, the signed document aims to identify and demonstrate technologies and services in which Ukraine and South Korea cooperate in the form of cross-validation projects based on the concept of Smart City. The pact also provides for the use of XnTree Level-X Labs, the R&D test platform, to implement international tech startups; assistance to innovative companies participating in the project "Smart Cities in Ukraine", as well as to Ukrainian companies to enter the Korean market and vice versa. The agreement governs the main areas of cooperation in education, research and innovation. Among them are the implementation of the Global Entrepreneurship Training Program both in Ukraine and in South Korea; involvement of Igor Sikorsky KPI in the verification of R&D-based technologies within the framework of projects of smart cities in Ukraine and South Korea; establishment of cooperation between Igor Sikorsky KPI and research laboratories at other large universities including the Seoul National University; promotion of the soft landing for the selected startups of Igor Sikorsky KPI researchers in the Korean city of Busan, etc. Last but far from least, it is stipulated that cooperation shall be carried out on the principles of equality, mutual benefit, and reciprocal adherence to accords.