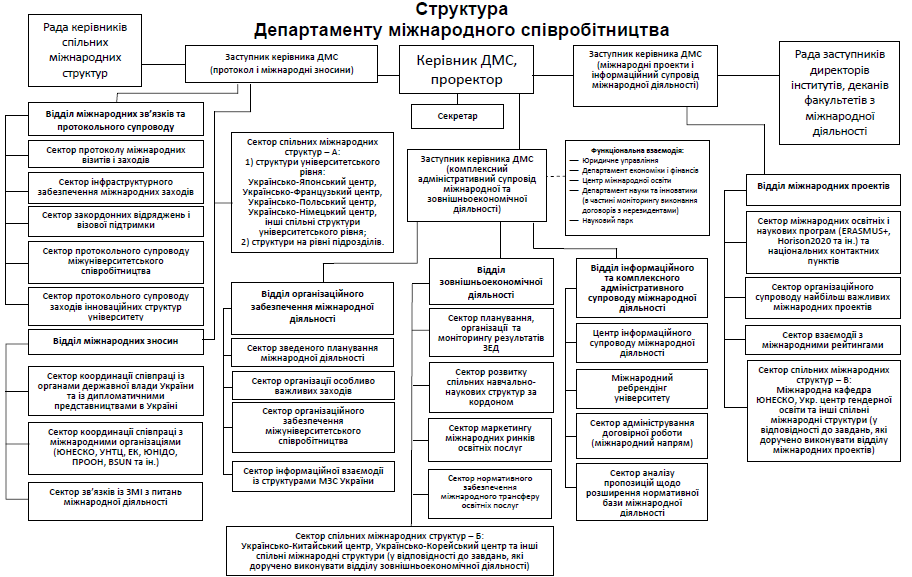 Department structure includes:
1. International Relations and Protocol Support Office:
Protocol and visa sector;
Sector of business trips;
Sector of inter-university cooperation;
Sector of organization of international events;
Sector of infrastructure support of international events.
2. International Relations Office:
Sector of coordination of cooperation with the governmental bodies of Ukraine and diplomatic missions in Ukraine;
Sector of coordination of cooperation with international organizations (UNESCO, STCU, EC, UNIDO, UNDP, BSUN, etc.);
Sector of media relations on the issues of international activity;
Sector of joint international structures:

University-level structures (

UNESCO Chair

,

National Office of BSUN

,

Ukrainian-Japanese Center

, Ukrainian-French Center,

Ukrainian-Polish Center

,

Ukrainian-Korean Center

, Ukrainian-Chinese Center, Ukrainian-German Center, Ukrainian Centre for Gender Education, NetCracker, other joint university-level structures);
Structures of subdivision level.
3. Organizing Office of International Activities
4. International Projects Office:
Sector of international scientific programs and national contact points of EU program HORIZON 2020;
Sector of international educational programs (Erasmus+, Fulbright, etc.) аnd interaction with international ratings;
5. Foreign Economic Activity Office:
Sector of customs support;
Sector of international transfer of educational services;
Sector of joint educational and research structures abroad.
6. Office of Information Support and Overarching Administration of International Acitvities:
Center of information support of international activities
7. Advisory bodies of International Collaboration Department:
The Board of Heads of joint international structures;
Council of Deputy Directors of Institutes & Deputy Deans of Faculties, who are in charge of international activity.